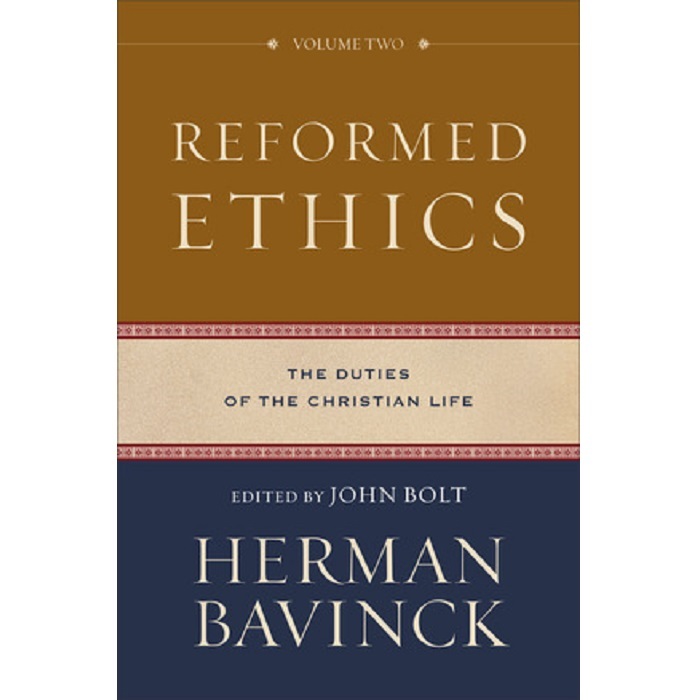 Reformed Ethics, Volume 2: The Duties of the Christian Life (Herman Bavinck)
Description
Herman Bavinck's four-volume Reformed Dogmatics is one of the most important theological works of the twentieth century. The English translation was edited by leading Bavinck expert John Bolt, who now brings forth a recently discovered manuscript from Bavinck that is being published for the first time Serving as a companion to Reformed Dogmatics, Reformed Ethics offers readers Bavinck's mature reflections on ethical issues. This book, the second of three planned volumes, covers the duties of the Christian life and includes Bavinck's exposition of the Ten Commandments.
Table of Contents
Continued from Volume 1
Book III Humanity after Conversion
13. Duties, Precepts and Counselors, Adiaphora
§27 The Doctrine (Theory) of Duty
§28 Precepts and Counseling
§29 Duties and the Permissible; Adiaphora
14. Collision and Classification of Duties
§30 Collision of Duties
§31 Classification of Duties
Part A. Our Duties toward God
15. No Other Gods; No Images
§32 The First Commandment
§33 The Second Commandment
16. The Honor of God's Name
§34 The Third Commandment
17. The Sabbath
§35 The Fourth Commandment
Part B. Our Duties toward Ourselves
18. General Bodily Duties to Self
§36 General Duties (Self-Preservation)
§37 Duties toward Bodily Life
19. Basic Necessities of Bodily Life
§38 Food and Nourishment
§39 Clothing
20. Bodily Duties to Our Souls
§40 Our Duty to Life Itself
§41 Attending to Bodily Life in the Seventh through Ninth Commandments
§42 Duties toward the Soul
Part C. Duties toward Our Neighbor
21. Loving Our Neighbor
§43 Neighbor Love in General
§44 Degrees of Neighbor Love (Fifth Commandment)
§45 Concern for Our Neighbor's Life (Sixth Commandment)
§46 Duties toward Our Neighbor's Chastity (Seventh Commandment)
§47 Duties toward Our Neighbor's Property (Eighth Commandment)
§48 Duties toward Our Neighbor's Reputation (Ninth Commandment)
§49 Covetousness (Tenth Commandment)
Indexes
Endorsements
"For the last decade, a global readership has enjoyed the theological and historical richness of Bavinck's Reformed Dogmatics. At the outset of that work, Bavinck set out that dogmatics is happiest in the company of its twin discipline, theological ethics. Dogmatics and ethics, respectively, show us why and how we should love God. For that reason, they belong together as 'related members of a single organism.' Since its release, Reformed Dogmatics has given a wide audience the chance to engage with a great Christian theologian on God and God's works of creation, salvation, and consummation. In Reformed Ethics, we are invited to think with Bavinck about the concreteness of human life in the light and strength of God's deeds for us. For that, we owe the editor and translators a great deal."
James Eglinton, Meldrum Lecturer in Reformed Theology, New College, University of Edinburgh; author of Bavinck: A Critical Biography
"In addition to Bavinck's magisterial Reformed Dogmatics, we now have the complementary Reformed Ethics. John Bolt and his accomplished team of translators and editors have added amazing value to Bavinck's recently rediscovered manuscripts in the field of moral theology. Their lucid translation, background studies, notes, and careful documentation of bibliographic sources used by Bavinck make this volume an invaluable background study on the history of theological ethics. Equally important, the book fills out our understanding of Bavinck the complete theologian. Working through it is an exhilarating eye-opener. "
James A. De Jong, emeritus president and professor of historical theology, Calvin Theological Seminary
Product Details
Title: Reformed Ethics, Volume 2: The Duties of the Christian Life
Author: Herman Bavinck
Publisher: Baker Publishing Group
Pages: 544
Binding: Hardcover
Size: 23 x 15 cm
ISBN: 9780801098222
---