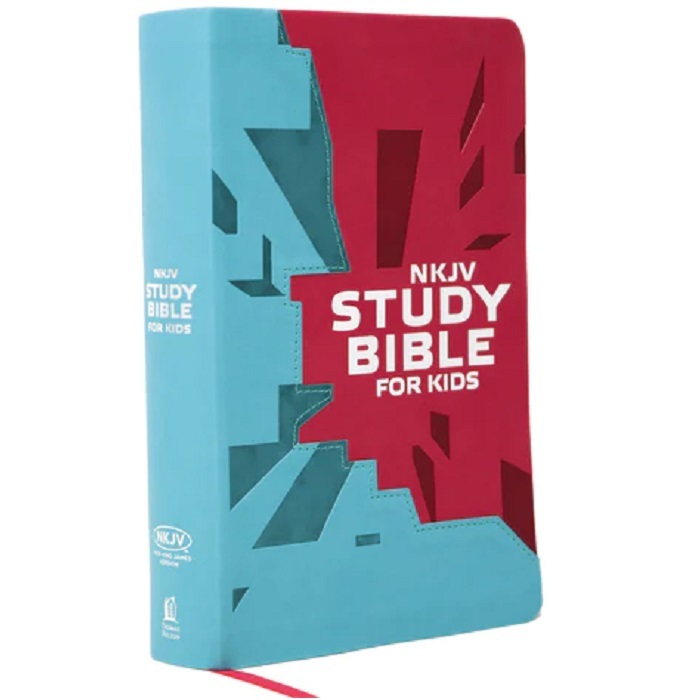 NKJV, Study Bible for Kids, Leatherflex, PinkBlue
Description
The premier New King James Study Bible for children in the trusted NKJV translation.
The NKJV Study Bible for Kids is the premier study Bible for kids in the trustworthy New King James Version. This Bible has been created and designed especially for you with vibrant full color on every page! Now studying the Bible can be easy and fun. There are many themed articles placed within the Bible text to help make it easier for you to read, understand, and learn about God's Word. With over 800 features to inspire and teach, you will enjoy the informative full-color articles, and easy fan- tabs to navigate through the pages. Features are integrated throughout the Bible text to prepare kids to learn how to use a study Bible so that they can use study Bibles now and as adults. By studying this Bible you can experience the big picture of the incredible Bible story, God's love for you, and how to use it in your daily life.
NKJV Study Bible for Kids Features
MORE THAN 800 features integrated throughout the Bible text.
Complete text of the New King James Version
Book introductions: Introduction including, author, dates, key passages, highlights, and more
Spotlight: Show kids God's big plan – how He worked in Bible times and how He works today.
Action!: Shows how kids today can relate to and understand many of the same issues and emotions that Bible characters encountered
Epic Ideas: Key articles that give kids information about must-know topics, and important themes to live the Christian life
Starring Roles: Biographies of key people in the Bible
In Focus: meanings and definitions of Bible names and terms
On Location: Colorful maps to help find Bible locations and events
Timelines: Highlights both biblical and historical events
Dictionary/Concordance: Helps kids navigate through words and terms of the Bible
Articles Index: a great study help and locator for articles within the Bible text
Quick reference: Fan tabs
Giftable: Presentation page
Fun: Colorful page edges
Product Details
Title: NKJV, Study Bible for Kids
Publisher: Thomas Nelson
Pages: 1536
Binding: Leatherflex
Size: 22.5 x 15.0 x 4.4 cm
ISBN: 9780718032470
---