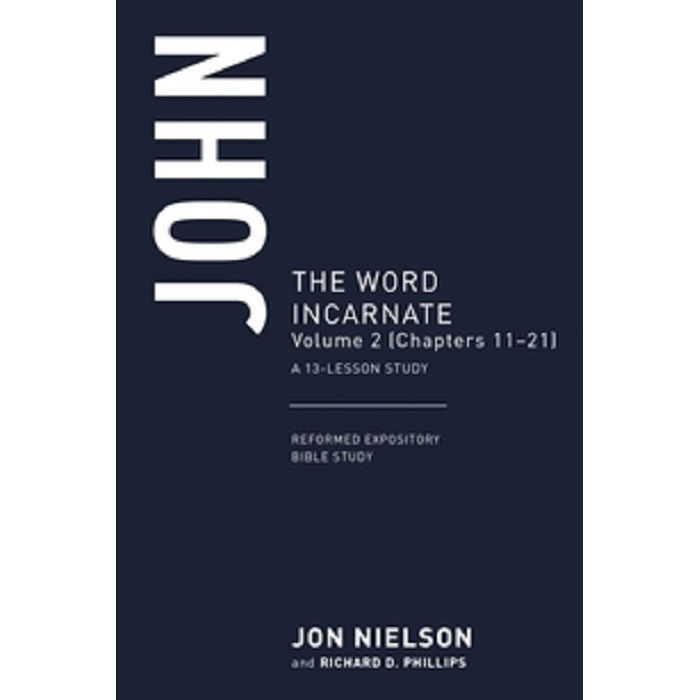 John, Volume 2: The Word Incarnate, Chapters 11–21 (Richard D. Phillips & Jon Nielson)
Description
Luther called the book of John "the unique, tender, genuine, chief Gospel." It is an excellent introduction to Christianity and a treasure to believers—a beautiful-ful place to meet Christ. In John 11–21, John recounts at length Jesus' teaching before his arrest, includes Christ's remarkable prayer for the church, and again provides a wealth of material that is not found in the other gospels.
This Reformed Expository Bible Study is designed for personal and group use. Each lesson connects to the rest of the Bible and holds to the same standards as the Reformed Expository Commentary series: a high view of Scripture; a Christ-centered focus; a Reformed theological basis; and an emphasis on personal application and prayer.
Endorsements
"Having benefited, along with many others, from the excellent and accessible Reformed Expository Commentary series, I heartily recommend this companion initiative."
—Harry Reeder, Senior Pastor, Briarwood Presbyterian Church
"I am thankful to see this development in the Reformed Expository Commentary series, allowing these excellent, pastoral commentaries to get an even wider use in the church."
—Bryan Chapell, Senior Pastor, Grace Presbyterian Church
"Jon Nielson asks questions on the text that will make the reader think. . . . The Reformed Expository Bible Study series will help readers to understand every text in light of the whole of the Bible—as well as the person and work of Christ. "
—Nancy Guthrie, Author, Seeing Jesus in the Old Testament Bible studies
"I highly recommend the Reformed Expository Bible Study series for those who desire to read the Bible through a redemptive-historical lens that will help them to draw out good gospel implications for all of life and ministry."
—Stephen T. Um, Senior Pastor, Citylife Presbyterian Church
Product Details
Title: John, Volume 2: The Word Incarnate (Chapters 11–21)
Author: Richard D. Phillips & Jon Nielson
Publisher: P&R Publishing
Binding: Paperback
Size: 22.6 x 5.2 x 0.9 cm
ISBN: 9781629959306
Sample Chapter
---