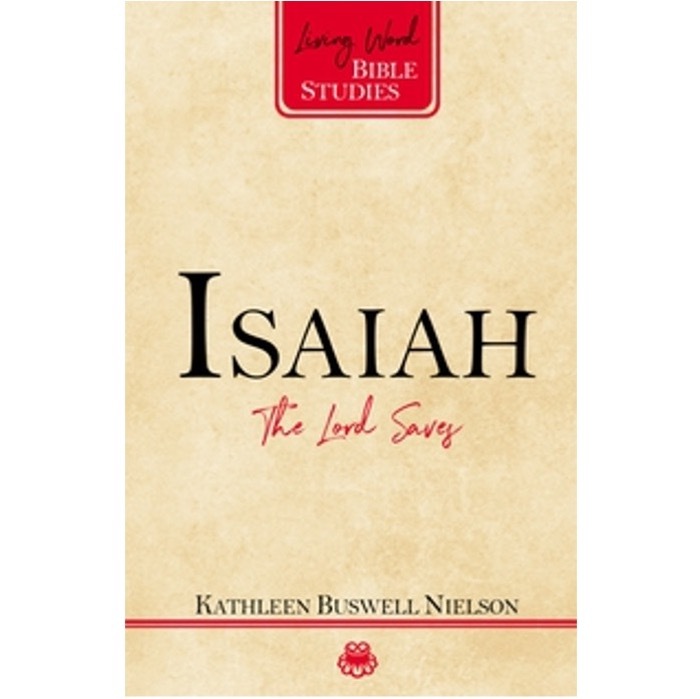 Isaiah: The Lord Saves (Kathleen Buswell Nielson)
Description
This Bible Study has 24 Lessons

Proven resources for deeper exploration of Scripture, Living Word Bible Studies provide effective guidance for groups and individuals alike. Each lesson includes questions for five days, plus helpful context and commentary, to lead to ever-increasing satisfaction, discernment, and delight in God's Word.

Isaiah presents God's plan of redemption in a theological masterpiece that contains some of the most beautiful poetry in the Bible.

This new edition features a fresh cover and interior design, printed with a special lay-flat binding. The text is unchanged.
Endorsements
"Once again Kathleen Nielson has given students of God's Word a precious gift! This study of Isaiah enables the reader to grow in the knowledge of the one who reveals himself as the Lord of Hosts. Kathleen helps students to understand the historical context in which the book of Isaiah was written, presenting lasting truths in their original setting. She points the eyes of the reader forward to the promised Messiah and encourages personal application of timeless biblical truths. Isaiah: The Lord Saves will be enjoyed and appreciated by anyone who is serious about understanding the message of Isaiah."

—Cindy Cochrum, Former Director of Women's Bible Study, College Church, Wheaton, Illinois

"Are you tired of fill-in-the-blank Bible studies? Dr. Nielson drives you closer to the heart of God and his Word through her thoughtful studies. If you don't want to read a lecture in the form of a commentary, but want to relish the sweeping expense of Scripture within a book through private inquiry, here is your source."

—Diane Poythress, Bible Study and Retreat Leader

"To all these studies of varied books of the Bible, Kathleen Nielson brings her own personal reverence and love for the Scripture, her background as a scholar of literature, her experience as a leader in a variety of local church settings, and her zeal to see others apply God's Word to their lives in a thoughtful manner."

—Joel Belz, Founder, WORLD Magazine
Product Details
Title: Isaiah: The Lord Saves

Author: Kathleen Buswell Nielson

ISBN: 9781629955896

Publisher: P&R Publishing

Pages: 384

Binding: Paperback
---