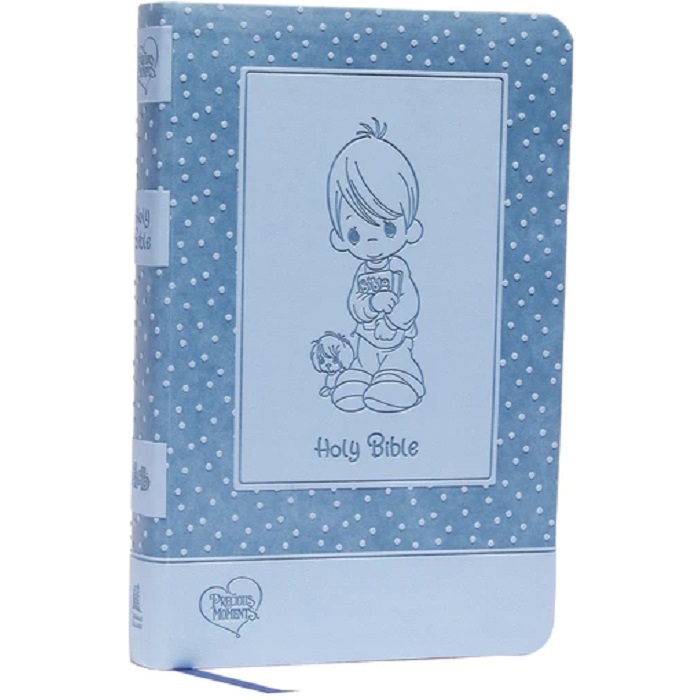 ICB, Precious Moments Bible, Leathersoft: International Children's Bible
Description
The ICB Precious Moments Bible makes an ideal gift for a special child in an easy-to-read format accompanied with classic full-color illustrations.
For more than 40 years, Precious Moments® characters have captured the hearts of young and old alike with their heartwarming depictions of faith, family, and friends. These soulful characters have come to personify biblical values of loving, caring, and sharing.
It's no wonder, then, that Precious Moments Bibles have become a worldwide bestseller over the years with more than 14 million copies sold! The Precious Moments Holy Bible is an ideal gift for children ages 6 and up. This full-text, easy-to -read International Children's Bible will be a sweet keepsake, sure to be treasured for a lifetime.
Children will delight in full-color illustrations that capture the essence of key verses: "Your word is like a lamp for my feet," "He heals the brokenhearted," "Be strong in the Lord," "I can do all things through Christ," "For God loved the world so much," and many more.
Features
Full-color Precious Moments artwork with Bible verses to help capture the attention of children as they relate to the beautiful imagery
Full-color presentation page, and church and family history section to make this a Bible your child will cherish
Detailed ICB Dictionary for a better understanding of key Bible characters and terms
A convenient "Where Do I Find It?" index to easily track down special biblical characters and events
Key memory verses to help direct your child through life
Reading plans provide an easy guide for children to enjoy the Bible on a daily basis
God is everything I need Bible verses provide comfort and encouragement from the nature and character of God
Names of God, Days of Creation, Psalm 23, and Fruit of the Spirit features
Readable 10-point print size displayed in a clear double column format
Product Details
Title: ICB, Precious Moments Bible, Leathersoft: International Children's Bible
Publisher: Thomas Nelson
Pages: 1344
Binding: Leathersoft
Size: 22.9 x 14.5 x 3.2 cm
ISBN: 9780785239727
---