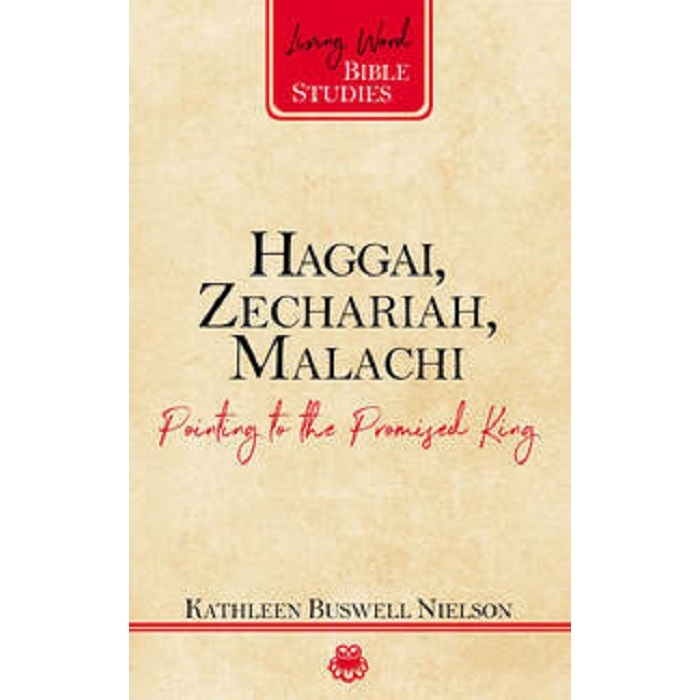 Haggai, Zechariah, Malachi: Pointing to the Promised King (Kathleen Buswell Nielson)
Description
This Bible Study has 10 Lessons
Proven resources for deeper exploration of Scripture, Living Word Bible Studies provide effective guidance for groups and individuals alike. Each lesson includes questions for five days, plus helpful context and commentary, to lead to ever-increasing satisfaction, discernment, and de light in God's Word .
Haggai, Zechariah, Malachi delves into the writings of three prophets who challenged and encouraged God's postexilic people—and asks how their words continue to challenge and encourage beliefs today.
Endorsements
"This study helps the reader to read and understand the text; carefully locates the words of these postexilic prophets in their place in redemptive history, thus contributing to the reader's grasp of the Bible as a whole; and is designed to edify the thoughtful reader by thinking God's thoughts after him."
—D. A. Carson, Emeritus Professor of New Testament, Trinity Evangelical Divinity School
"Kathleen Nielson has served the church with an engaging, well-informed, and biblically and theologically astute study of three minor prophets. The discipline-making church always needs strong Bible studies, and every church needs to learn from the prophets Ha ggai, Zechariah, and Malachi. Kathleen Nielson has served both needs of the church well."
—Daniel M. Doriani, Professor of Theology and Vice President, Covenant Theological Seminary
"In a context in which many fear a seeming incline in Western society's hostility toward the church and a seeming decline in the Western church's strength, I can think of no more relevant books than Haggai, Zechariah, and Malachi to offer needed hope. Nor can I think of a more expert guide than Kathleen Nielson for helping us to take hold of that hope. I will be recommending her material far and wide, to Christians and non-Christians alike."
—Mary Willson Hannah, Professor of Old Testament, Memphis City Seminary
Product Details
Title: Haggai, Zechariah, Malachi -- Pointing to the Promised King
Author: Kathleen Buswell Nielson
Publisher: P&R Publishing
Pages: 144
Binding: Paperback
Size: 21.4 x 13.6 x 1.2 cm
ISBN: 9781629958323
---