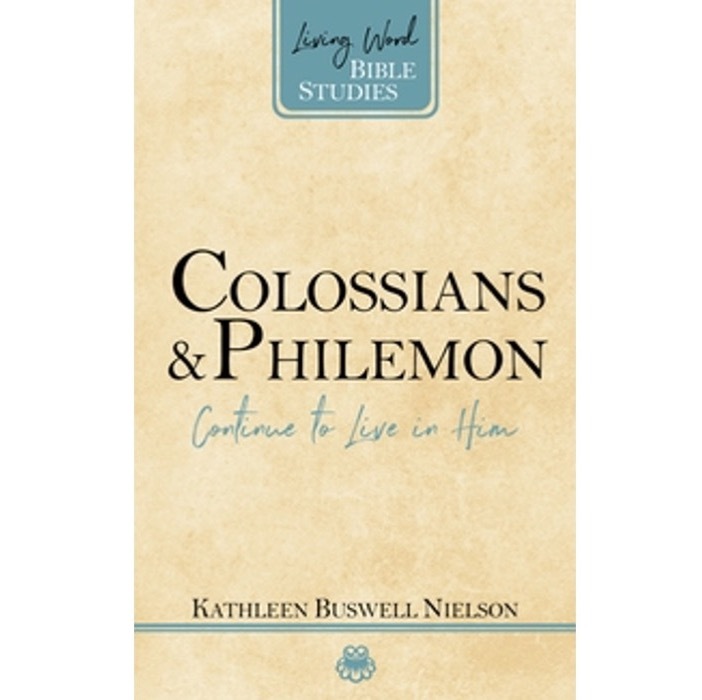 Colossians and Philemon: Continue to Live in Him (Kathleen Buswell Nielson)
Description
This Bible Study has 10 Lessons

Proven resources for deeper exploration of Scripture, Living Word Bible Studies provide effective guidance for groups and individuals alike. Each lesson includes questions for five days, plus helpful context and commentary, to lead to ever-increasing satisfaction, discernment, and delight in God's Word.

Colossians and Philemon explores two beautiful and fascinating letters written during the first remarkable years of growth in the early church.

This new edition features a fresh cover and interior design, printed with a special lay-flat binding. The text is unchanged.
Endorsements
"Dr. Nielson's love for the biblical text and her desire to convey its meaning in its context, coupled with her literary acumen and engagement with everyday life, have given the church a magnificent resource. Simply the very best!"

—R. Kent Hughes, Senior Pastor Emeritus, College Church, Wheaton, Illinois

"With rich insight and wisdom, Kathleen Nielson invites her students to 'grapple with the text' as she provides helpful contexts and comments interspersed throughout stimulating study questions. Kathleen's studies are good food for the soul—challenging, convicting, and very, very encouraging."

—Carol J. Ruvolo, Author, Light For Your Path Bible Study Series

"Dr. Kathleen Nielson uses her great love for and understanding of literature to lead us into a rich study of Holy Scripture. Her studies highlight the importance of meditation and self-discovery while providing just enough gentle guidance always to steer us to the Good Shepherd as our hope and strength."

—Bryan Chapell, Senior Pastor, Grace Presbyterian Church, Peoria, Illinois

"Through the study of the book of Colossians, Kathleen's questions help focus the eyes of our hearts on the one in whom she finds such great delight—the pinnacle of all study—the person and work of the Lord Jesus Christ. Literally a life-giving study!"

—Teren Sechrist, President, Livingston Classical Academy, Whitmore Lake, Michigan



Product Details
Title: Colossians and Philemon: Continue to Live in Him

Author: Kathleen Buswell Nielson

ISBN: 9781629955810

Publisher: P&R Publishing

Pages: 144

Binding: Paperback
---